Description
How to get what you really want!
(even if you have no goals, no character and are often in a lousy mood)
Have you ever wanted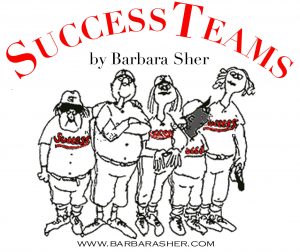 a career doing what you love ? A house by the sea? Your own horse ? A great relationship ? A trim body ?
We are starting a Success Team to help you get what you want.
A Success Team is a support group of people who will help you develop plans for any goal, assist you with information and contacts, phone numbers, address and directions…whatever you need to make your dreams come true.  Most important: they will give you guidance and encouragement, week by week until you have achieved your goal.
And they will do it for free. Why?  Because you are going to do the same for them.
Success Teams is a tried and true method based on Wishcraft and Teamworks! by Barbara Sher. Barbara has appeared on PBS, Ted Talks and in the Wall Street Journal, Reader's Digest, Ladies Home Journal and other national media.
There are no gimmicks, no pyramid sales force, no get-rich quick schemes behind this invitation.  We are just a few local people from the area who want to do something terrific…and we need your help.  More information on Teams can be found by clicking on the logo below.
This 8 week Success Team will be held in Cypress, TX  (northwest of Houston, TX).  We will meet beginning October 27th, 2018 from 10:00 AM until noon and we will meet every Saturday at the same time until December 15th, 2018.
Registration is $425.00 and will include all printed materials, light snacks and our meeting space.  However, I am offering a reduced registration rate until October 25th of $297.00.  Payment plans and a few scholarships are available.  Please contact Christie Going, Sher Success Team leader, at Goingfwdsuccessteams@gmail.com for more details on the payment options available.
Christie has been a Success Team leader for 10 years and as a former member of a few different Teams she knows first hand how powerful these teams can be.  She really enjoys teaching people these proven ways for accomplishing their dreams.